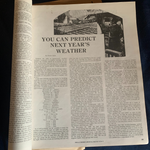 Predicting the weather is not an easy feat, even today, with all the technology meteorologists use, weather prediction is far from perfect. Climate Change is making it even more difficult to predict the ever changing weather patterns. This method is an interesting and unusual way to try to predict the weather for the coming year...Amish Style.
The Amish Weather Prediction model suggests that the weather on each of the 12 days of Christmas (starting on December 26th and ending on January 6th) represents the weather for each month of the coming year. According to the Amish, if the weather on December 26th is clear and sunny, then January will be a cold and clear month. 
My Dad started this weather predicting model back in the 80's after reading about it in his favourite publication the Small Farmer's Journal. The article "You can predict this years weather" outlines how the Amish predict the weather for the upcoming year. 
He was diligent about tracking temps and precipitation. I can see the papers scattered on the kitchen table, one for each day with the temperature and any precipitation plotted out. 
Here's how it works… Each day month represents a month and each hour represents 1.25 days. 
December 26 = January
December 27 = February
December 28 = March
December 29 = April
December 30 = May
December 31 = June
January 1 = July
January 2 = August
January 3 = September
January 4 = October
January 5 = November
January 6 = December
2 am = 2nd to 3rd of each month
4 am = 4th to 5th
5 am = 6th
6 am = 7th to 8th
10 am = 12th
12 noon = 15th
2 pm = 17th to 18th
4 pm = 20th
6 pm = 22nd
9 pm = 26th
11 pm = 29th 
We're not as diligent about the data collection in our house…we take a more general approach looking at the high and low temperatures of each day and whether there was any precipitation and if so was it above the norm. It gives us a general prediction and one we very loosely use to think about the upcoming hay season and whether we should be stockpiling hay or not. 
It's fun to look back on the predictions and also stay curious and open to learning from nature. If we pay attention Nature is always giving us subtle clues to the seasons ahead. 
This past week between Christmas and New Year's was a dreary and very gray one with little sunshine. I'm not sure what this means for the weather prediction of the year ahead overall but here's what we have based on the data collected… 
This is what I found online as a prediction for the summer of 2023
Summer temperatures will be hotter than normal. Rainfall will be near normal in the north and above normal in the south. The hottest periods will be in mid-June and early and late July. September and October will be warmer and drier than normal.
It's not too late to predict for this year - it's a simple as looking back on your weather app as to the conditions of those 12 days starting on Christmas Day.
Happy Weather Predicting - It'll be interesting to see what the weather in 2023 will bring.  
The Data Collected we collected (loosely I might add ;/)  at Maple Ridge Farm predicts the following for 2023
It was an unseasonably warm week with above normal temperatures for every month (we weren't even close to our average low of -10) and we exceeded the normal high of -3 each day as well.  So the trend continues of warmer weather overall. Given the daytime temperatures on the 30th and 31st of 7 and 8 degrees, this would suggest that April and May would be much warmer than usual. Look for July and November being warmer than usual as well. 
The above average months of precipitation based on the prediction model will be June, and October. 
At the end of the year we'll loop back to this and see if our predictions ring true.