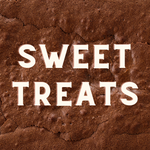 In celebration of Valentine's Day here's two favourite sweet treats in our house ... One healthy, the other not so much. But both contain chocolate so that's a win, and both are absolutely delicious.
The first is a decadent fantastic fudge brownie recipe. I first had these brownies at a potluck in university and secured the recipe. Thirty years later there's no need for a recipe anymore as I've made them so many times. They turn out perfectly every time and the icing melts into the brownies which takes them to the next level good. I'm confident you are going to love these brownies!
Fantastic Fudge Brownies
1 cup of butter
2 cups of sugar
4 heaping tablespoons of cocoa
4 eggs (beaten)
1 tsp vanilla
1 cup of flour
Cream butter, sugar, cocoa 

Add beaten eggs and vanilla

Add flour
Bake in a greased 9x13 pan 40-45 mins at 350.
Centre will fall in, and they will be chewy
Icing
2 cups of icing sugar
2 Tablespoons of butter
2 Tablespoons of cocoa
2 Tablespoons of boiling water
2 teaspoons of vanilla
Combine all the icing ingredients (I whisk icing sugar and cocoa together first) then add butter, boiling water and vanilla. Use a beater. 
Do this will brownies are baking
As soon as brownies are out of the oven, ice them with icing. The icing melts into the brownies.
Let cool completely before cutting. You will love this recipe. Here's the tattered and torn recipe as proof of just how often it's been used over the years. 
The second sweet treat is a healthy fudge, which is dairy free, gluten free, and naturally sweetened. A square of this naturally sweetened fudge is so satisfying it's hard to believe it's good for you. This healthy fudge is easy to make, only has a few ingredients, and it comes together in a snap. I line a 9x9 baking dish with parchment paper. Once the fudge has set in the fridge it's easy to lift the fudge out of the pan and cut it into squares. 
Healthy Fudge
1/2 cups melted coconut oil 
1/2 cup cocoa 
1/2 cup smooth almond butter (or nut butter of choice)
1/4 cup maple Syrup
Pinch of Salt
Instructions
In a small pan, combine coconut oil, cocoa, almond butter, maple syrup and salt.

Heat over medium heat and whisk until smooth. It does not need to boil or come to a certain temperature.

As soon as it's smooth, pour into a 9x9 parchment lined pan. 

Place in fridge and let set a few hours

Store in the fridge or freezer.
Enjoy!