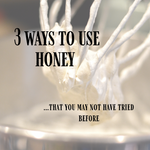 We all get into ruts about how we use an ingredient….honey is no different. Here are 3 ways to incorporate this superfood into your diet that you may not have thought of before. 
Honey Butter… it's incredibly easy and oh so good! 
Honey butter will transform anything you spread it on. Try it on anything;  fresh biscuits right out of the oven, a warm piece of toast, cornbread, or steamed carrots or sweet potatoes. 
Truthfully, it's unbelievably good on just about anything. Take butter and beat it until smooth, add some honey and a pinch of salt. I make it in small batches but you could make a bigger batch if hosting a brunch or larger gathering.  
Whipped Cream - Use honey instead of refined sugar the next time you make whip cream. It's delicious! For a small carton of whipping cream. I use 3 tablespoons of honey to sweeten. Start by adding a tablespoon and keep tasting until you get to the desired sweetness. 
Here are some other tips you may find helpful:
Start with a chilled bowl 
Don't overbeat the whipping cream
Homemade honey whipped cream is best eaten immediately after being whipped.
Salad Dressing. Instead of grocery store salad dressing, whip up a batch from scratch. It's healthier and it's easy to make with just a few ingredients that you most likely already have on hand. Invest in good olive oil, (not grocery store olive oil) it makes all the difference. Here's a creamy honey mustard salad dressing that we make in our house all the time. Guaranteed to brighten up any salad.
It's as easy as whisking the ingredients together and storing any leftovers in a mason jar in the fridge. It'll keep for at least 10 days. 
Ingredients
½ cup plain yogurt (i usually use greek)

¼ cup extra-virgin olive oil

¼ cup Dijon mustard

4-5 tablespoons honey, to taste

2 tablespoons lemon juice

1-2 tablespoons apple cider vinegar (start with 1 and taste)

1 clove garlic, minced

couple of pinches of salt

freshly ground black pepper
We just have a few jars of honey left. We won't have more until next fall so if you think you'll need more before next fall, buy a jar now. 
We have limited amounts of chocolate and cinnamon creamy honey in stock as well.