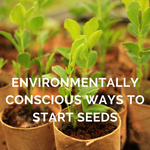 It's the season to get your grow on! Starting seeds is a very rewarding experience starting with a a seemingly benign seed, watching it germinate and transform into a seedling, then growing into a productive plant.
We're just 8 weeks away from our last frost date so now is a good time to think about starting seeds.
There are so many different ways to start seeds, you don't need an elaborate set up or all the fancy seed starting kits. Bend the "rules" a little with these out of the box environmentally friendly ways to start seeds... 
Egg Cartons
Egg Cartons are great for seedlings that have a short turnaround time from germination to transplant as the depth of each cavity is quite shallow, so you'll want to transplant from egg carton to your garden within a few weeks to a month. 
Toilet Paper Rolls 
Another biodegradable way to start seedlings. Cut slits into the ends of the toilet paper roll and fold in toward the middle which acts as the bottom. If they are a bit wobbly, you can put a few rolls together into a container to keep them upright. When you are ready to plant, you can either pull the cardboard away from the soil and put the plant in the ground, or simply unfold the bottom and plant the whole pot — the cardboard will slowly disintegrate.
Newspaper Pots
This is Mark's favourite way to start seedlings. It's always around this time of year….usually on a Sunday morning, he'll make himself a coffee, put on some tunes….usually Alan Jackson and he'll pull out a stack of newspapers, and start making pots. 
Here's a video of Mark showing you how to do the folding. Once your seedlings are ready for transplanting you can plant the whole thing into the garden. The paper breaks down/decomposes and the plant continues to grow.
Soil Blocking
This is the way we start most of our early seedlings. You start with wet soil and the soil is pressed into the soil blocker which is a hand held tool. The blocks are released onto a tray. Soil blocking is a great way to start a lot of seedlings in a very small place. Seedlings started in soil blocks have robust uninhibited root structures which means they are unaffected by transplant shock. 
If you'd like to learn more about seed starting, we have just a few spots left in our upcoming seed starting workshop. You'll leave the workshop with a seeded cut flower garden that will be ready for transplanting once the risk of frost is over and you'll feel confident in knowing the secrets to growing robust healthy seedlings that will produce beautiful flowers and food for you.