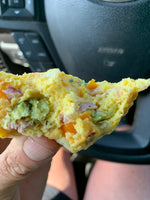 You've probably seen these eggy things before….you know the ones cooked in muffins tins. They are sometimes called egg muffins or egg bites. Doesn't matter what you call them….they're delicious!
As per usual round here, this recipe is flexible. Change up the add ins and different cheeses to whatever you have in your fridge or what's plentiful in your garden. Make it your own.
Ingredients  
½ lb of bacon cooked and into bite sized pieces. (you could also use crumbled sausage, chopped ham etc.)

A few handfuls of finely chopped veg of choice (zucchini, bell pepper, onion, mushroom)
Some fresh chopped herbs
12 farm fresh pastured eggs
1 cup cheddar cheese shredded
A spoonful of Dijon Mustard (optional) 
⅓ cup heavy cream or milk 
Salt and Pepper to taste
Cook protein first in cast iron pan…(bacon, crumbled sausage, ham)
Add your chopped veg of choice in with the protein
While that's happening, preheat the oven to 350°F and grease the muffins tins liberally or line your tins with muffin liners.
In a large mixing bowl, whisk together the eggs, milk, salt, and pepper.
Just before protein is fully cooked add veggies for the last few minutes. 

Split the veggie/protein and cheese between the 12 muffin cups, then pour the egg mixture over top.
Bake the egg cups for at least 20 minutes, or until firm in the middle.

Let cool slightly, and enjoy warm or cool completely and put in the fridge to enjoy throughout the week.