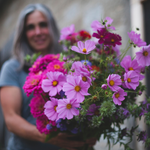 Valentine's Day is quickly approaching. It's the number one holiday when we show our love through flowers. In fact, it's the largest holiday in floriculture. 
Perfectly Preserved Flowers
Before we grew local cut flowers as part of our farm, I gave little thought to the flowers seen while grocery shopping in large box stores and florist shops other than how beautiful they were. I have learned so much about flowers and the global flower industry since those early days. I now see these perfect flowers, almost fake looking at times, impeccably preserved, still looking fresh and beautiful even though they've been harvested weeks before and have traveled thousands and thousands of miles to their destination. I have learned that is because flowers are not considered a consumable which means there is no limit to the amount of pesticides sprayed on cut flowers imported to Canada (and more than 80% of all flowers sold in Canada are imported). Pesticide residues remain on the foliage, stems, and petals of the flowers. The chemical residual found on flowers was in some instances 1,000 times above the maximum limit set for food.
Protect Yourself 
Knowledge is power. It's hard to fathom that something so beautiful could, in fact, be harmful. The next time you pick up flowers or you're gifted an arrangement, here are a few tips to protect yourself. Wash your hands thoroughly after touching the flowers. It seems counterintuitive but don't put your nose close to the flowers because you can't be sure what you are breathing in. Lastly, throw the expired flowers into the garbage, not your green bin or compost. The residual pesticides impact the microbes in the soil.
Buying local flowers is like buying local food
By purchasing locally grown flowers, you have the opportunity to know your flower farmer and their growing practices. You are saying yes to our community and long lasting blooms, and no to harsh chemicals and long-distance shipping. 
Flowers from our farm are grown with no chemicals. We grow our flowers using regenerative farm practices which means the soil will be improved through growing, not depleted. Our flowers are safe to bury your face in, and reflect seasonal beauty while providing a thriving ecosystem for pollinators, birds, insects and wildlife.
A Thoughtful Alternative
In the spirit of thoughtful gift-giving and celebrating the person you love or for yourself (that's a great idea! It's called self care), how about this? Instead of giving or receiving flowers just on Valentine's Day, consider a flower subscription and enjoy gorgeous, local, organic flowers for weeks at a time. The gift that keeps on giving. 
If you want to give the hint to your partner, copy and paste this....of course add a in the subscription/experience you'd like ;-) For Valentine's Day this year...how about local flowers from Maple Ridge Farm...I'd especially like some tulips in the spring and a flower farm experience... here's the link.....xoxxox  
At checkout, put in the comments that it's a Valentine's Gift and I will send along a gift certificate. We'd appreciate the support and are grateful for all of you that have already purchased a subscription for the upcoming growing season. Thank you, every order contributes to the sustainability of our farm.
Flower Offerings from our Farm
Tulip Subscription- Our most popular subscription! Nothing says spring like Tulips! After a long winter it's exciting to have fresh flowers in your home again. They are sure to bring you joy and there's an element of surprise too. Part of the fun is that it's a different colour/variety each week. The tulips are harvested fresh from our farm, hand tied into a beautiful bouquet wrapped in brown paper. 
Monthly, Flower Bouquet Subscription, is the perfect way to enjoy fresh, local flowers throughout the growing season. Each month you will receive a lush, hand wrapped bouquet of seasonal flowers. Starting with Tulips in May, spring blooms in June, summer showstoppers in July and August then it all wraps up with spectacular fall blooms in September.  We'll create a beautifully arranged hand tied bouquet for you bursting with a variety of blooms and foliage thoughtfully harvested fresh from our farm.
Buy a Monthly Flower Bouquet Subscription Now
Summer Blooms Subscription - Enjoy gorgeous summer blooms each week through July and August. Your choice, either by the bucket or the bouquet. We harvest the best of what's blooming in the field and in July and August it's all the showstoppers including sunflowers, zinnias, snapdragons and cosmos just to name a few. 
Buy a Summer Blooms Subscription Now
Flower Experiences and Events
We will be offering opportunities to experience our flowers in person through bloom bars, workshops and flower experiences.