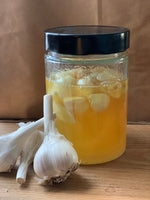 Looking to stay healthy and feeling good all winter? We have something for you!

Feeling under the weather? We have something for you too!

Drumroll please.....Garlic Honey!
When I started making this pungent potion months ago, there was some mockery happening in our house…but I believe that consuming a spoonful a day has given my immune system a boost and has kept me healthy even when others around me and close to me have been sick. 
It was after the honey as medicine workshop that I was inspired to make a batch and start consuming it as a way to keep my immunity strong, banishing any sickness. 
Honey is the oldest medicine around and Garlic is a powerful natural medicine. Both Honey and Garlic have many medicinal properties, so combining the two means natural medicine that helps you build immunity. In addition, if you happen to be sick, it can help you feel better. 
You can make Garlic Honey today! It's a simple recipe and can be consumed at any time throughout the fermentation process. 
You can consume the garlic honey as a preventative measure against getting sick (that's how I use it). I consume a spoonful of just the honey once or twice a day and begin before it ferments completely. You can easily start consuming it by end of day 1 of the garlic being added into the honey. 
There really isn't a recipe. Use fresh local garlic - not grocery store garlic because it's almost always from China (If you need local garlic, email me). Separate and peel some garlic….a large bulb of garlic or two is perfect. Give the peeled garlic a little smash with a knife and drop into the bottom of a clean jar, top with honey - leaving some space at the top. You're looking for the honey to coat the garlic. Put the lid on the jar. For the first few days flip the jar a couple of times a day. You can also just open the jar and give it a stir. 
When ready to consume, slide a spoon along the side of the jar getting just the honey, leaving the cloves of garlic to work their magic. 
Over time, as you start getting low in honey, the garlic will get hard. That's because honey is hygroscopic, which means it absorbs moisture from other things. So you will notice the honey will be a bit runnier when the garlic first goes into the jar. That's because the honey is pulling water from the garlic. 
As the honey depletes, you can add honey to the existing honey/garlic mixture.  Just do this a couple of times though. Then I'd say start a new batch. It's as easy as fishing out the hardened garlic and adding fresh garlic and more honey. If the honey starts to crystalize - put it in a sunny window to make it more runny again. 
If you want to only consume the garlic honey purely as medicine, you can ferment it for up to a month, flipping the jar and burping it by releasing the air from the jar. Then store in a cool dark place. Use as needed when feeling under the weather. 
Warning - it is strong in flavour. If you can't do it by the spoonful…try in salad dressings, or as a dipping sauce for chicken. 
Make a batch today - do it for the health of it!
Cheers to this honey keeping you healthy throughout the winter. Nature knows best. ;-)