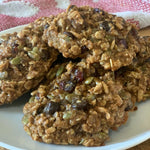 I don't know about you but when things get busy, the first thing to drop off the list is eating healthy. So be proactive and make a batch of these hearty cookies! They are healthy AND satisfying. In fact, they are so filling they'd count as a meal. They are great for breakfast, or for a boost on a hike or as a healthy road trip snack.
I was handed one of these cookies many years ago, when I worked corporate, it was very early one morning as I boarded a shuttle bus to the airport. These cookies were a signature item of the Four Seasons Hotel out west. They were labeled as power cookies, in our house we call them breakfast cookies.
Feel free to modify the recipe, the more you make them the more they will become your own specialty cookie. The seed and nut parts are very interchangeable. Use what you like. If you're not a fan of hemp hearts, add chia seeds, or more pumpkin seeds. The original recipe was Gluten Free and Dairy Free but I sometimes use regular flour or local spelt flour from Sonset Farm, or a combination of Gluten Free Flours. I have found all work equally well. Similarly to the flour, you can use whatever milk you have on hand. And lastly, if molasses isn't your thing you can sub honey for the molasses. 
It's an easy recipe with simple, healthy ingredients and can be mixed by hand. Preheat oven to 300 degrees. Combine all the dry ingredients together first in a big bowl. Wisk the wet ingredients together and add to the dry mixture. To save on the clean up, measure your coconut oil first that way the molasses will slide right out of the measuring cup. Mix everything together with a large spoon or clean hands. The batter should be quite wet – if it is dry when combining, add a bit more water. Drop onto a parchment lined cookie sheet with an ice cream scoop. Bake for 12 minutes. I prefer them slightly undercooked so they are chewy. Enjoy!