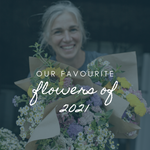 We have grown flowers in all settings - at my parents' greenhouse growing up, to overflowing containers of flowers and herbs on our balcony when we lived in Toronto, to curated perennial beds in our first home to our current 3 acres of cut flowers. We have grown a lot of flowers, and many different varieties; both annuals and perennials, and woody shrubs. We have our gold standards that we consistently grow each year along with some new to us species and varieties sprinkled in. With each growing season, there's always a few that end up being our favourites. Each growing season is different, and that's what keeps things evolving round here. 
Here are a few of our favourite varieties of 2021. I bet you'll recognize some of these flowers. If you're a grower and you haven't already tried these… look for these seeds and give growing them a try - you won't be disappointed.  
Fancy Frills Tulip - We have grown this tulip for the past 3 seasons but for whatever reason… this year it flourished and based on the feedback we got, it was definitely a favourite of yours too. It's a pink and white tulip that opens to a bright yellow centre. The wide petals are outlined with tiny serrated edges, creating a beautiful frayed look. We used it in straight bunches as well as paired with pale yellow and muted pink for a stellar colour/texture combination. Fancy Frills will be part of the tulip subscription again this year. 
Potomac Lavender Snapdragons - We grow so many snapdragons, and while this colour isn't new to us, we had a new appreciation for it this year. It paired with with so many other colours, we couldn't harvest enough stems each week. The strong straight stems were consistently loaded with incredible lilac flowers that fade to pink. 
Sweet Annie - This fragrant foliage adds that special sparkle every arrangement or bouquet it's in. You can use it fresh or dried. The flowers appear as tiny cream-yellow coloured dots along the stems. 
Blue Fama - This beautiful tender perennial flowers its first year. At first it doesn't look like much but then the plant sends up a fantastically long wiry stem with the most incredible blue flower ranging in colour from a faint periwinkle blue to rich, dark blueish-purple. We are trying to overwinter the 50 plants from last year and planted additional ones this fall. Fingers crossed they live through the winter. 
Agastache - We use a lot of herbs in our bouquets. They add interest and scent. This herb was a workhorse in the field for us and provided us with many long stems for bouquets and buckets. We used it as a foliage as well as a line flower in bouquets once it was blooming.
White Lite Sunflowers - Bred specifically for the cut flower production, this pollenless tall ivory petaled sunflower is stunning. These beauties were perfect in late spring and summer bouquets. 
Our intention is to grow extraordinary flowers, ones that truly reflect natural seasonal beauty. Flowers are that little thing that make a huge difference in our lives and homes. Fill your home with farm fresh blooms by pre ordering a tulip subscription, a monthly flower subscription or summer blooms.