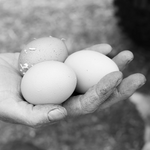 When you get a text from your son at university that says..."Weird question... but will you take a picture of your hands, Dad's too and send it to me?" It was easy to assume what this was about. As it turn out Ben's floor mates in residence were roasting him about his farmer hands….they'd never seen farmer hands before and he said, "wait until you see my Mom and Dad's hands!" 
Our hands are not soft or manicured, but they tell a story, one of hard work and a dedication to the land. I'm proud of my working hands. I was self conscious but we snapped a pic and off it went. At the end of the growing season, our hands are tired and covered with cracks and deep dirt stained creases, even when scrubbed vigorously, they still appear unwashed. After the picture request, it got me thinking while proud of my hands, I need to take good care of them. After all, I want them to be in tip top shape for spring. Fast forward to now and they are looking much cleaner and softer. BUT the incessant hand washing we're all doing these days, they are still dry. Yours too? The dry air in our homes doesn't help and who doesn't love a hot shower or bath on these cold winter days….also drying. All of these things are contributing to our skin being parched, especially our hands.  Here are 4 things that will help soften and soothe your dry winter hands naturally.
Use lukewarm water to wash your hands, not hot - this one makes a big difference! 

Check the soap you are using with the EWG to ensure it doesn't contain harsh chemicals  click here to see the rating of a popular hand soap

Moisturize 2 - 3 times per day again check with EWG on the moisturizer you are using. The best time to apply a moisturizer is right after you've washed your hands.

Look for natural ways to soothe your skin. The simplest natural options are often the most effective and don't contain any toxic chemicals. Here are some to consider; coconut oil, honey (apply the raw honey on your hands, then rinse off after half an hour), aloe vera (break the leaf and rub the aloe on your hands), and beeswax is also naturally healing. Beeswax creates a protective layer on the skin. It's also a humectant, which means that it attracts water so it works double duty by keeping your skin soft and hydrated. And most beeswax products are EWG certified. 
Here's to us all showing our hands just a little more love these days. They do so much for us. 
Also if you haven't tried our Bee Healed Salve or Queen Bee Lotion Bars yet, they've been getting rave reviews... you can check them out here. 
 *if you don't know about the Environmental Working Group  (EWG) download the app or google it on your desktop now. It is life changing. The EWG (environmental working group) informs consumers about hidden health dangers in your food, water and products you use every day. You will use this app all the time to check products. Type the product you're curious about in the search bar and the rating will pop up.