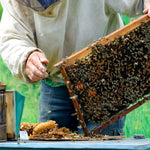 Mark and I made an early trip to the County to pick up bees Sunday morning. These are nucs (starter hives) for our bee mentorship participants from last year. These mentorship participants learned how to bee keep last year and now they are full fledged beekeepers with their own hives. We were musing about just how exciting it must be for them. It sure is for us. Learning something new can't help but enhance our lives. It's the excitement of a whole new world seen from a different lens.
Beekeeping as a hobby has exploded in recent years and we're super stoked about it. It's great for the environment, the pollinator population and it's great for you too! Having a Hobby is a good thing. It makes you more interesting, introduces you to a new community of like minded people and challenges you to learn new skills. Having a Hobby that you love makes life better. 
Here's a few reasons to consider beekeeping as your next hobby.


Location, Location, Location
Being a beekeeper instantly provides a meaningful way to connect with nature. It's not just the bees, it's the fresh air, the sunshine and the vibrant landscape that surrounds the hives. It's the birds singing in the background and the wildflowers swaying in the breeze. Being in Nature is a natural mood booster contributing to your emotional and physical well being. 
Knowledge
Once you start to learning the interworking of the hive, you'll be captivated and want to learn more about these fascinating creatures. Discover how they communicate, their roles in the hive, their phenomenal work ethic…and before you know it, you'll be hooked. Each hive is as unique as the bees that live in it. These nuances add to the appeal of beekeeping. It will tap into many skills like observing, assessing and diagnosing.


Physicality 
Beekeeping is active. You are on your feet, walking from hive to hive, bending and lifting up frames for inspection. Oh and a honey filled box is heavy so add strength training in here too. 
Community 
There is an important community aspect to hobbies. Beekeeping is no different. Beekeepers love to talk bees, equipment and share stories. Hobbies bring people together and inspire connection.
Hopefully this has inspired you to seek out a new hobby. It doesn't' have to be beekeeping because there are so many options. Regardless of what hobby you choose, the excitement and joy you feel when engaged with something new is good for you. You will feel accomplished and fulfilled. 
Our learn to bee keep series is closed for registration but we are offering one time beekeeping session and farm experiences as well as other opportunities for community through workshops and events this summer. 
It's never too late to try something new.
.