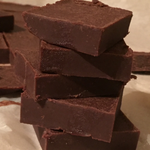 I have a sweet tooth, there I said it. Sweet over salty for me any day of the week and the sweeter the better. The more sugar I consume, the more I crave it. Even if it's a handful of chocolate chips meant for cookies. 
There is overwhelming evidence of just how bad refined sugar is for us. A few years back I did a sugar detox. I learned that refined sugar is in pretty much everything …ketchup, mayo etc and I started actively seeking out recipes that were naturally sweetened with honey or maple syrup. I stopped putting sugar in my coffee and started really paying attention to how much sugar I was unknowingly consuming. I still consume more than my fair share of sugar BUT this naturally sweet fudge got me through that first detox and has been a favourite ever since.
This healthy fudge has the perfect balance of fat, protein and no refined sugar. It's the perfect hit of sweet that calms the sugar cravings. I'll often have a square with my mid morning coffee or as a little pick me up in the afternoon. 
This fudge is easy to make, only has a few ingredients, and it comes together in a snap. I line a 9x9 baking dish with parchment paper. Once the fudge has set in the fridge it's easy to lift the fudge out of the pan and cut it into squares. 
Believe me when I say it's so good, you won't believe it's good for you. Make a batch today. You're going to love it. 
Healthy Farm Fudge 
1/2 cup melted Coconut Oil
1/2 cup cocoa powder
1/2 cup nut butter of choice 
1/4 cup maple Syrup
vanilla
Pinch of salt
Instructions
Line a 9X9 pan with parchment paper and set aside.

In a small pan, combine coconut oil, cocoa, almond butter, maple syrup and salt.

Heat over medium heat and whisk until smooth. It does not need to boil or come to a certain temperature.

As soon as it's smooth, stir in vanilla, and pour into the prepared pan. 

Place in fridge and let set for at least 2 hours.

Cut into squares

Store in fridge 
For peanut butter chocolate fudge - make a double batch - omitting the cocoa from one of the batches adding maybe a spoonful or more of the nut butter. Chocolate fudge on the bottom and layer peanut butter one on the top. Give it a swirl with a knife,