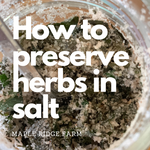 Preserve the essence of summer and savour it all year long with super easy salted herbs. These little jars of goodness will infuse your winter dishes with the taste of a sun-kissed summer garden.
I've been making salted herbs for years, mostly to keep the vibrancy of summer in my winter meals…especially basil. Dried basil for whatever reason just doesn't bring that summer basil taste, but a sprinkle of basil salted herbs, it's like having a pinch of sunshine in every dish.
And here's the "recipe" (if you can even call it that):
3 parts fresh herbs
1 part high-quality salt
In our house, we use Redmond Real Salt. If you haven't tried it you should…it's unrefined sea salt, pure and unprocessed, and contains trace minerals too.
Here's what you need to do….Chop your fresh herbs finely, mix them thoroughly with the salt, then pack this aromatic blend into a mason jar and store it in the refrigerator. If you don't feel like chopping I have thrown the herbs into the magic bullet with the same results.
Your homemade salted herbs will stay deliciously potent for up to a year.
Now, here's the key: Use fresh herbs. That's why this is the perfect time to start on your salted herb adventure, as herbs are bountiful this time of year. Dried herbs won't do – they can't preserve in the salt and release their flavour and moisture like fresh herbs can.
Feel free to experiment with single-herb salts or combine a medley of herbs from your garden or your local farmer's market. You'll be amazed at how a pinch of these salts can elevate any dish. The basil salt will work wonders in all things tomato and I like to sprinkle rosemary salt over potatoes before roasting.  For the first time, I'm trying a thyme, italian parsley and oregano blend. It's curing in the fridge now.  
Preserve your slice of summer and add a dash of brightness to your recipes with our salted herbs. Give it a try – you'll be glad you did!